Host an authentic New York-themed show for your next social or corporate event in NYC!
Bounce Music & Entertainment is a premier provider of music and entertainment shows in New York. We are your go-to source for talented musicians, dancers, performers, and production teams for your corporate parties in NYC. With our one-of-a-kind brand of entertainment, you and your guests will definitely have the best time!
From Broadway musicals to break dancing, we can create an exquisite show that will take your party to the next level. Browse through our selection of shows. Alternatively, we can help you create your own New York show tailored to exactly what you're looking for. Whatever your preference is, we are the ideal partners in providing your guests with a party they'll never forget.
Bring your own piece of Broadway to your company affair, and let Bounce Music & Entertainment help you do it. Call us today!
To give you an idea of what we can offer, here are a few samples of top notch shows we are ready to provide:
Broadway Salute
A tribute to the Great White Way, featuring the most popular shows being sold out in NYC every evening. Shows include but are not limited to Jersey Boys, Motown, Mamma Mia, Les Misérables, Phantom of the Opera, Wicked, Evita, Chicago, Guys and Dolls and Dreamgirls.
American Songbook
A look back at the Golden Age of Music featuring tributes to Frank Sinatra, Cole Porter, George Gershwin and the Andrews Sisters. Look-alike performers and featured dancers are also added to the show for an additional wow factor.
Streetz of NY
Bounce's version of what you would experience walking down a NYC street today. Street performers such as break dancers, bucket drummers, graffiti artists and hip hop performers bring the show to life. For an authentic feel your guests can be greeted by a New York character such as a cabbie, bellhop or "Tony Alto."
Immigrant Experience
A real time-hop that brings back to life the immigrants that made the historic journey across the oceans. Period actors and musicians recreate the experience with authentic European music, accents and costumes.
Roaring NYC
You'll be taken back to a time when the gin was cold but the piano was hot with the lively music of the age of Swing and Jazz. The show would not be complete without characters and dancers from the roaring ages like flappers, cigarette girls, newsboys and more.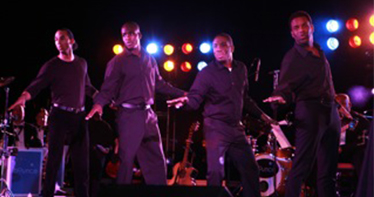 Create Your Own
Maybe lunch in Chinatown or "Breakfast at Tiffany's" is your type of New York. Whatever your preference, let us help you create your own New York experience.