Every December 31st, over one million people layer-up their warmest winter gear and pack into New York City's Times Square to witness the legendary ball drop and ring in the new year. As thrilling as this may be for some, others are not as fond of crowds, the bitter cold and uncertainty of access of public restrooms. If you're looking to tap into the Big Apple energy this New Year's Eve, but at a cozier distance from Broadway and 42nd Street, here are five equally exciting locations to catch a glimpse of this spectacular event.
Set in the heart of Times Square, the New York Marriott Marquis Hotel at 1535 Broadway puts you in the middle of the action. Depending on your budget (and be prepared to dig deeper into your wallet than usual), several packages are available this night. Dinner, dancing and live-streaming of the ball drop are offered on the 48th floor, while a view of the actual New Year's Eve broadcast and its musical performances can be enjoyed as part of the "Ballroom Party" package. If you prefer  a more intimate viewing, private hotel rooms are also available with a view of Times Square (usually a 2-night minimum).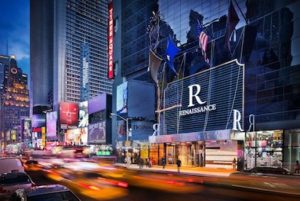 If you want to make a huge impression, take your New Year's Eve date to the terrace party at The Renaissance Hotel. Located at 714 Seventh Avenue, this Times Square hotel delivers a perfect view of the ball drop, with all the extras: free-flowing champagne, hors d'oeuvres and dancing. Like other exclusive area hotels, private room/event packages are also available.
Positioned at the corner of Broadway and 42nd Street, this landmark hotel claims to have the closest sight-line to the ball drop in New York City. Its exclusive rooftop party includes an open bar, dinner from the world-renowned Charlie Palmer restaurant and a champagne toast on the terrace (with complimentary blankets for the chilly NYC air) at midnight.
Get a little bit further from the crowd, but still in viewing range of the ball (plus a bonus shot of the Empire State Building) at The Skylark on west 39th Street in Chelsea. This contemporary, multi-level rooftop terrace offers the New Year's Eve standards – open bar, hors d'oeuvres and DJ at a more affordable price (for New York City that is). Packages start at $300 per person.
"Madame Tussauds' New Year's Eve Party"
Less than one block from the actual Times Square ball drop, Madame Tussauds world famous wax museum is fun for the entire family on New Year's Eve. The 85,000 square foot space offers an open bar, appetizers, interactive rooms, a 4-D cinema experience, and of course – photo ops with your favorite celebrities (smile). At $110 per person, this is definitely a price-friendly and unique way to spend New Year's Eve in New York.
**Note: Street closures in and around Times Square begin at approximately 3PM, so plan travel into the city accordingly.
By LaJuan Carter