Transform your party into a New York concert with the help of the local, brilliant musicians of Bounce Music & Entertainment!
Bounce Music & Entertainment is home to renowned live bands, DJs, and ensembles in the local music scene. Apart from their talents, our performers are known for going back to their roots as NYC musicians. We have ensembles and bands that mainly play New York blues, jazz, Motown, and swing. But we also have New York-based musicians and DJs that perform more current, alternative music.
Book us for your next social or corporate event in NYC and your guests will have a blast! After all, an incredible night with fun music and entertainment is what they deserve here in the Big Apple.
To help you decide on the kind of show you'll want for your event, here are some of our available bands, DJs, and ensembles:
Live Bands
---
Eastside Mix
Eastside Mix puts a unique spin on the Billboard Top 40 with creative mashups, transitions and choreography.
Brooklyn Mix
Brooklyn Mix is edgy and slick. Featuring Pam Steebler from Sao Paulo, Brazil with her band of incredibly talented musicians and singers who believe it or not…all now live in Brooklyn.
Bootleggers Ball
Some call it the Great Gatsby or the Prohibition Era or 1920s Dixieland. The Bootleggers Ball takes you back to a time when the gin was cold and the piano was hot. Featuring the music and look of the age of Swing in New York when Jazz was born.
Mixx 22
For those who have "been there, done that" and are looking for "what's next?" Imagine world-class singers backed with a full orchestra and a gospel choir. Featured show elements during dinner. Custom award music, ending with the ultimate dance party. Custom show and costume changes per request.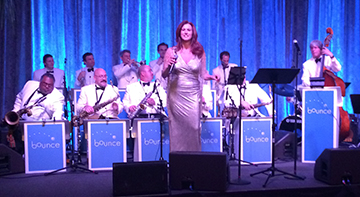 Big Band Bounce
The Golden Age of Music in the '40s and '50s. Dressed to the nines in white dinner jackets and elegant gowns, Big Band Bounce comes with old style box music stands for a truly authentic look.
Vinyl MP3
Vinyl MP3 performs Top 40 hits in alternative styles such as swing, mo-town and even rumba. Delivered in a fun, campy style mixing in choreography, VMP3's lighter repertoire is a perfect alternative for cocktail parties or networking events. VMP3 can also play the "originals" for a dance party.
DJ's
---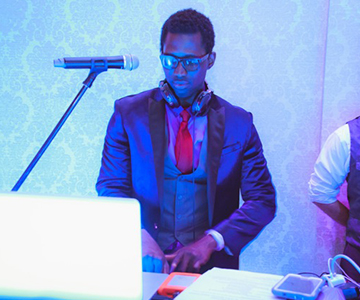 World Class DJ's that have played for the biggest celebrities.
---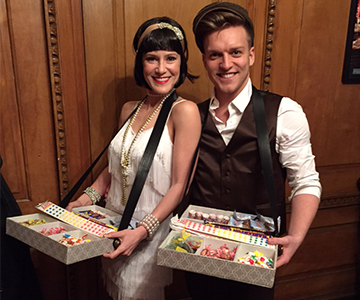 Greeters, Candy Girls, Look-A-Likes, Illusionists, Models, Living Statues, and more!
Ensembles
---