5. Brooklyn Winery
213 North 8th St.,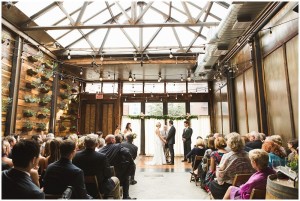 Brooklyn, NY 11211
Average Cost: $47,000
Brooklyn Winery is the ideal venue for any bride looking for a countryside wedding in New York City. They provide a romantic, sophisticated setting with a fully functioning winery. Averaging at about $300 a person during peak season and no facility fee this is the perfect one-stop shop in a unique, rustic atmosphere.
4. The Bowery Hotel
335 Bowery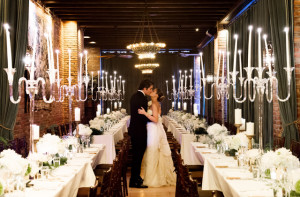 New York, NY 10003
Average Cost: $78,000
The Bowery Hotel provides 10,000 square feet of vintage furnishings, exposed brick walls, iron chandeliers and an oversized green tiled fireplace. The average cost is calculated by figuring a 125 guest list for a peak season, Saturday night. Including a 5-hour reception with food, beverage, chairs, and linens using their $60,000 pre-tax minimum. Although the hotel opened in 2007 it looks as if it's been there forever.
3. Ellis island
1 Liberty Island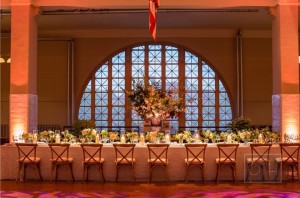 New York, NY 10004
Average Cost: $70,000
If you're looking for an out-of-the-box venue loaded with history, then look no further. Enjoy cocktails with Lady Liberty and reception in the grand hall. The average cost is calculated for 100 guests including the private ferry transport to and from the venue, five hour event time, food and beverage and the ceremony fee. Ellis Island and The Statue of Liberty is a beautiful venue that is steeped in family history and pride of new beginnings. There is no better place to start your own new beginning surrounded by the ones you love.
2. TRIBECA ROOFTOP
2 Desbrosses St,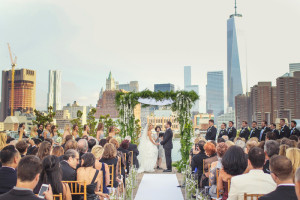 New York, NY 10013
Average Cost: $70,000
The Tribeca Rooftop is a 15,000 square foot industrial penthouse with a 65-foot long glass skylight roof that overlooks Tribeca, the Hudson River, and downtown New York City. The average cost for a Tribeca Rooftop wedding is calculated by considering their 200-person minimum guest list on a Saturday evening with a food and beverage catering price of $320 per person. Enjoy breathtaking views while indulging in local and fresh ingredients that create unique dishes with an unbelievable presentation.
1. CENTRAL PARK BOATHOUSE
E 72nd St,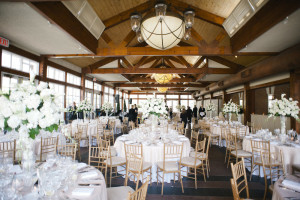 New York, NY 10021
Average Cost: $45,000
The timely Central Park Boathouse is one of the most iconic New York City wedding venues, which is why we made it number one. The average base cost for a Central Park Boathouse wedding is calculated with a guest list of 165 people for a Saturday night ceremony and reception using a food and beverage cost of $200 per person. With phenomenal food and expert staff, it's no wonder the boathouse has been around for over 150 years.