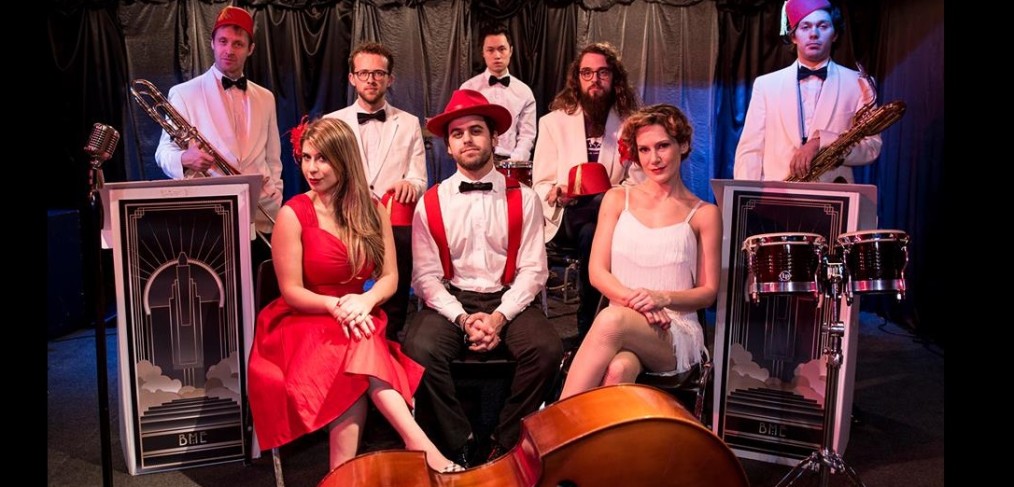 Vinyl MP3
The songs you know, performed like you never expected!
Vinyl MP3 is Bounce's answer to the hit underground band, Post Modern Jukebox.
Simply put…..VMP3 Takes pop songs we all know and creates alternative original arrangements that give the songs a new and eclectic sound.
Vinly MP3 has blasted off in their first year. The response has been nothing short of remarkable.
With their campy tongue in cheek style and wardrobe, the group has a unique "knack" for catching your eye as well as your ear.
The band can also play mainstream Pop arrangements which makes them a "No Brainer" for almost any kind of event from quite background setting to high energy dance music.
Check out the short video. You won't believe the first song
"Brilliant"
The Songs U Know ▶
Performed like U Never Expected ⏩
Uptown Funk – Mark Ronson – New Orleans swing
My heart will go On- Celien Dion- 50's Boog-a-Loo
Hey Ya – Outkast – 1940's Swing
Baby one More Time – Britney Spears – Tango
Living on a Prayer – Bon Jovi – Swing
Umbrella – Rihanna – 2000's RnB
Ain't No Other Man – Christina Aguilera – Motown
Slim Shady – Eminem – Do Wop
Seven Nation army – Whte Stripes – Cabaret
Single Ladies – Beyonce – Cool JAzz
Simply the best – Tina Turner – Bossa Nova
Creep – Radiohead – 6/8 soul
My Heart Will Go On – Celine Dion – Surf music
Shake it off – Taylor Swift – Vintage Motown
Blank Space – Taylor Swift – Vintage Cabaret
Habits – Tove Lo – 1930's Jazz
Radioactive – Imagine Dragons – Swing
I'm not the only one – Sam Smith – New Orleans Vintage
Stay With me – Sam Smith – 1940's swing
Say Something – A great big world feat. Christina Aguilera – New Orleans Vintage
Chandelier – Sia – Tango
Royals – Lorde – Disney
Jealous – Nick Jonas – Diana Ross style
Oops I did it again – Britney Spears – Vintage Cabaret
Call me Maybe – Carly Rae Jepsen – Bluegrass
I kissed a girl – Katy Perry – Do wop
Bad Romance – Lady Gaga – 1920
Barbie Girl – Aqua – Surf music
Maps – Maroon 5 – 1970s Soul
Rude – Magic – Vintage 1950s
Burn – Ellile Goulding – 60s Girl Group
All of me – John Legend – Vintage Soul
Boulevard of Broken Dreams – Green Day – Gospel
Roar – Katy Perry – Motown
Only one – Kanye West feat. Paul Mccartney – 1960s