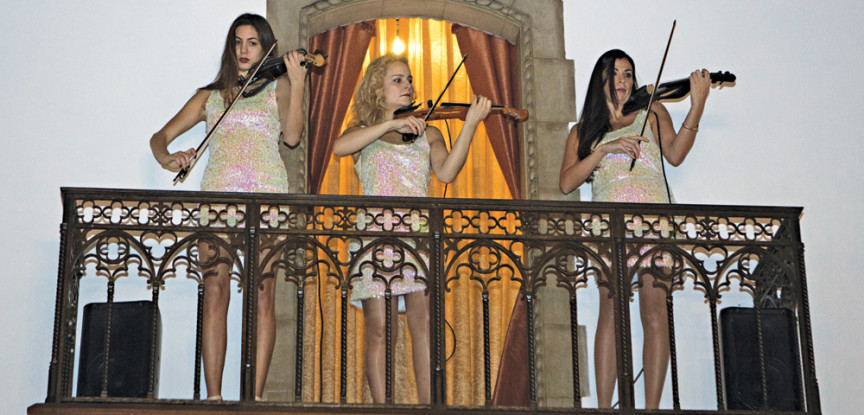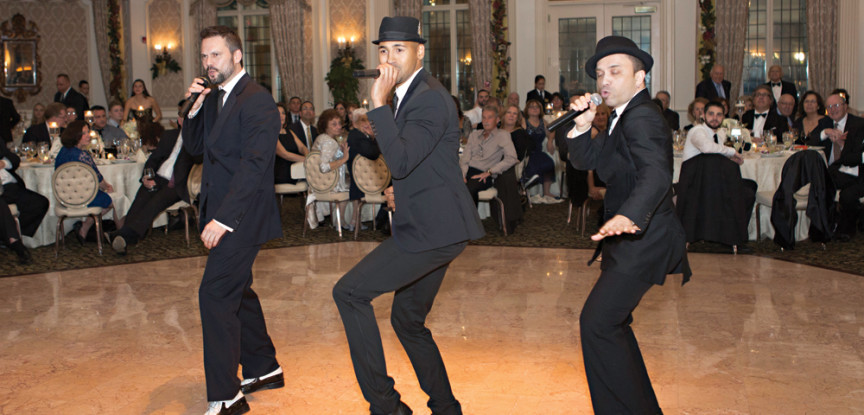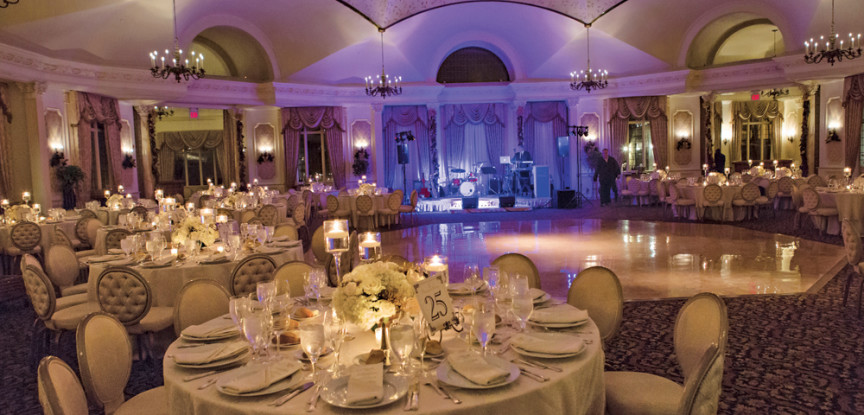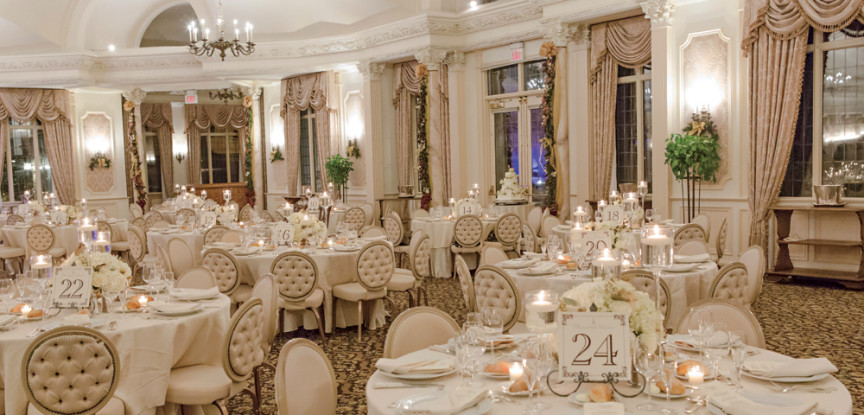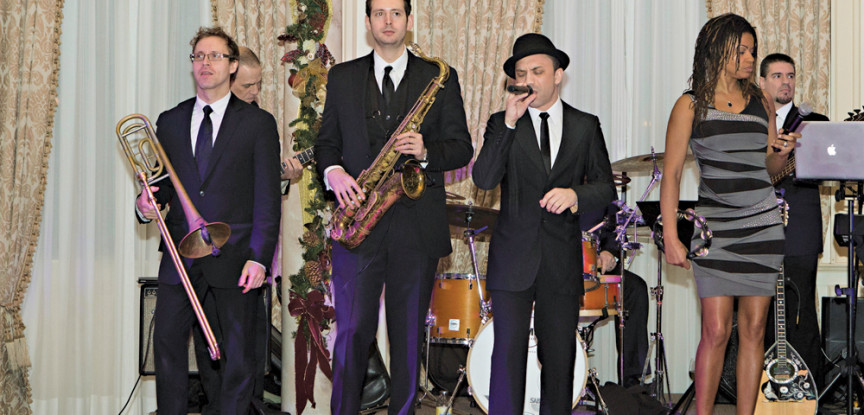 Choose Music That Entertains
Musical Ambiance. "Match the size of your band and sound volume to your particular venue and choose the right musical mix for all guests."
Incorporate Unique Aspects of Your Venue. "Pleasantdale Château has a small balcony overlooking the cocktail room. My son took one look and said the balcony screamed for violins!"
Vendors
Ceremony: St. Gabriel the Archangel
Reception: Pleasantdale Château
Music: Bounce Music and Entertainment,
201.482.8191, info@bounce-us.com, www.bounce-us.com
Gown-Bridesmaids: Jim Hjelm
Tux: ENZO Custom Clothier
Makeup: Catie Morillo
Photos: Ellie Photography
Videographer: Preston Films
Florist: Floral Expressions
Limo: John Peter's Professional Limousines
From The Bride
"Dimitri and I chose Pleasantdale Château for our wedding reception," says Kathryn Vallis. "It has the look we wanted. It's elegant and classic, warm and inviting, and beyond beautiful. It's the perfect turn-of-the-century mansion with multiple rooms that evoke the feeling of several venues.
"The setting was grand without overpowering the personal feeling of the day. We felt as if we were inviting our guests into our own home – if our own home was the most beautiful place in the world!"
They held their cocktail hour in a grand room that featured a balcony overlooking the space. "We felt this was the perfect spot to have violins, which truly made the cocktail hour one-of-a-kind.
"Moving into the reception, a large 10-piece band welcomed guests with both Greek and modern music, perfectly blending the traditional and current tastes that kept the dance floor packed all night." The band was provided by Bounce Music and Entertainment. "They learned our first dance song, 'The Perfect Day' by Holly Maher, which truly made the moment beyond special for both of us."
A Surprise Performance
Dimitri knew his bride was a huge Justin Timberlake fan and he surprised her by having a special Justin Timberlake tribute performance. "It was a true surprise," says Kathryn. "Our guests were dancing in their seats! The band also made sure they told our photographer, Ellie Photography, and our videographer, Preston Films, about the tribute performance, so every shot was captured.
"For the rest of the reception, from horns to strings to even a live Bouzouki player, the band put on a show our guests are still talking about." They also had an after-party in a separate room that no one had seen prior to reception. "It featured an open bar, fun late night finger foods and a DJ, also provided by Bounce Music. The DJ kept the party rocking into the night, accepting all requests!"
From the Band
Justin Timberlake Tribute Performance, by Bounce Music"Pleasantdale Château is like a castle nestled in the forest," says Dean Vali, founder of Bounce Music and Father of the Groom. "Kathryn loved one of our most-requested bands 'Eastside Mix,' and their ability to play current music mixed with classics and an upscale presentation." The groom's side of the family is of Greek heritage, so Dean incorporated a bouzouki player into the band and they played traditional Greek folk music.
"Pleasantdale Château has a small balcony overlooking the cocktail room. My son took one look and said the balcony screamed for violins! So I gave the violin trio an upgrade. We had three beautiful women with matching sequin dresses playing electronic violins, mixing classical music with modern techno sounds.
"My big surprise for the wedding was a show during dinner. For the Justin Timberlake tribute, we brought in three young, very handsome guys who sang and danced JT and NSYNC with hip hop choreography. She was shocked and the guests were thrilled. We got a lot of comments from the guests about never being that entertained at a wedding. We also provided an after-hour DJ on site. No one wanted to go home!"
Dean tells us that Kathryn and Dimitri knew the music they wanted, "So I just guided them on what to watch out for, like the appropriate size band and sound volume they should have for their particular venue and the right musical mix so all guests would have a good time. Kathryn and her mom Ellen, as mother of the bride, planned most of the wedding and did an incredible job.
"Working on the wedding with Dimitri and Kathryn was fun and easy. It was a joy to be with my wife all night and watch them loving every minute of their big day."
Wedding Memories
Seeing my son dancing with his mom was more emotional for me than I thought it would be. The song was the Stevie Wonder classic 'You are the Sunshine of my Life,' not what you'd call a unique choice, but a perfect message for a perfect day. After all the planning and details for the entertainment, still the best moment was watching the bride come down the aisle and marry her true love.
See the original article here.